An emphatic start and finish helped New Zealand post an all-important 60-29 win over Scotland at the Gold Coast 2018 Commonwealth Games netball tournament on Monday.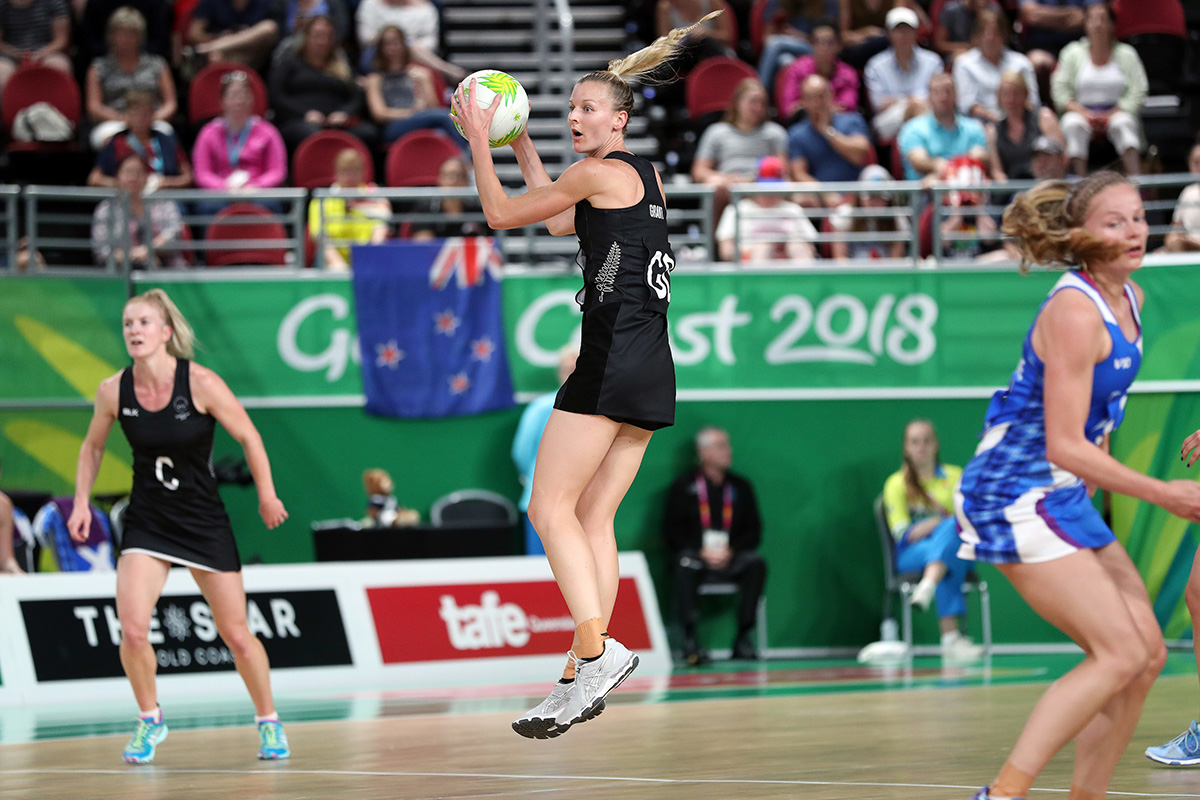 Retaining an unchanged line-up for all but the last three minutes of the match, New Zealand built on their lead at each quarter break, flexing their influence particularly effectively in the first and final stanzas.
After losing to Malawi the day before, an under-pressure New Zealand responded with an encouraging outing against Scotland to keep their hopes of making the play-offs alive.
Another crucial challenge awaits New Zealand when they play their final pool match against England at 11am on Wednesday (NZ time).
Showing a more settled approach, New Zealand didn't have things all their own way against Scotland, who continue to improve under former New Zealand international coach Gail Parata, but they will be buoyed by an improved and more clinical outing.
With captain Katrina Grant leading the way, the intentions were clear early on as the women in black set about delivering an extraordinary first quarter.
On the job from the outset, Grant and Temalisi Fakahokotau provided a steady stream of turnover ball as they put the clamps on anything aerial from Scotland. Centre Shannon Francois showed plenty of vision in delivering a string of long, accurate pin-point feeds into Maria Folau and Te Paea Selby-Rickit, the shooting duo powering New Zealand into a commanding lead.
New Zealand's defensive screen strangled Scotland's attacking line, restricting their opponents to just five attempts in the opening stanza.
After scoring two goals in the opening two minutes, Scotland were kept scoreless for the rest of the quarter as New Zealand swept to a healthy 19-2 lead.
Resuming with the same line-up, the New Zealanders faced a stiffer challenge from Scotland during the second term.
The switch of Samantha Murphy from wing defence to wing attack paid off handsomely for Scotland who found their timing and accuracy on attack. Teenaged goal shoot Bethan Goodwin proved her value in helping keep Scotland's score ticking over.
Keeping the ball away from New Zealand's strength in the air, Scotland kept their opponents honest. However, ever-present and energetic wing defence Samantha Sinclair remained a constant asset for the New Zealanders who headed to half-time well in control when leading 32-13.
Unchanged, New Zealand continued to build on their lead through the third quarter but found plenty of resistance from Scotland.
Goal attack Lynsey Gallagher proved a reliable option for Scotland under the hoop while New Zealand benefitted from their defensive hustle particularly in the air where the won a solid source of turnover ball.
On attack, New Zealand remained intent on playing the game at speed where they executed a number of sharp passages of play in pushing out to a 44-21 lead at the last break.