After the eight leading men's and women's Synchronised Trampoline pairs confirmed their places in the 2019 World Championship final in Tokyo, several delighted duos revealed just how they keep in sync with each other while upside down and eight metres up in the air. Intriguingly, there is a real contrast of styles.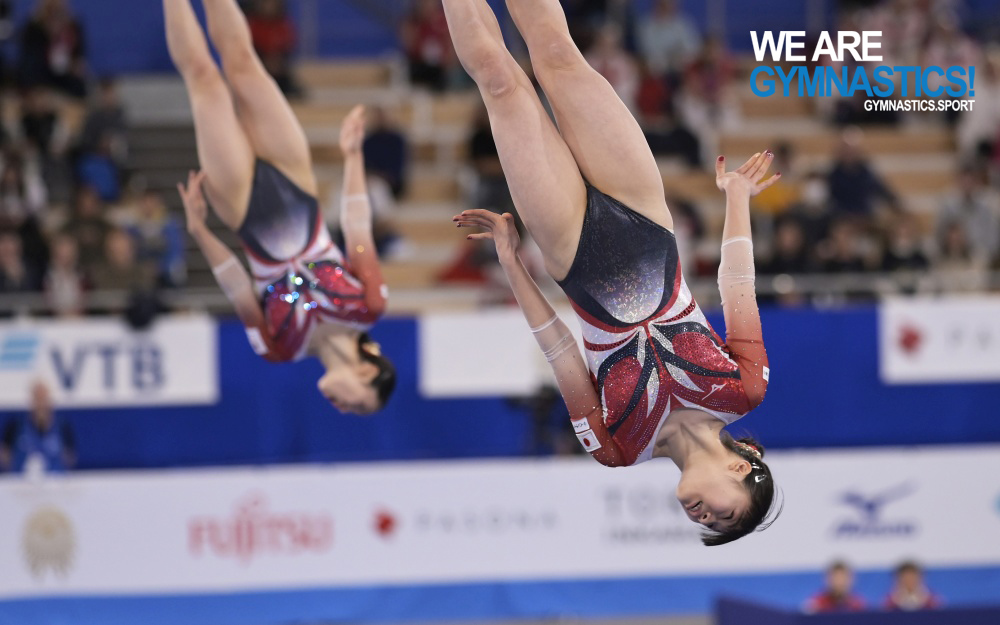 Canada's Samantha Smith and Rachel Tam will be going for gold in the women's Synchronised Trampoline World Championship final on Saturday in just their second major international event together. But even more remarkable than that, the pair live just about as far away from each as is possible within the Canadian borders.
"It's really great that can compete together well in competitions because we live about 5000kms apart," Smith laughed after she and Tam scored 87.630 points on Friday morning to finish sixth in qualifying, behind the Chinese pair of Liu Hui and Fan Xinyi in second and Japan's Yumi Takagi and Ayano Kishi, who comfortably topped the standings with a mark of 91.060.
"We medalled in Spain (at the Valladolid World Cup in October) and that was our first time as a pair competing together," Smith continued. "It appears that we are a natural pair."
It seems to confound logic, but a quick poll of the 16 men's and women's world finalists in Tokyo revealed that a significant proportion do not live and train in the same place. For the Canadians, for instance, it is all about perfecting the routines separately and then being able to adjust, quite literally, on the fly.
"It's kind of a balancing act but the general rule we try and follow is the person who is bouncing higher will try and correct to the person that is lower because it is a little bit easier to cut height than it is to gain height," Smith explained.
As partner Tam adds, this approach requires the two of them to keep a pretty constant eye on each other. In contrast, the Australia pair of Jessica Pickering and Lauren Sampson, who they will face in Saturday's final, focus first and foremost on themselves.
"Because we are so similar it comes naturally, like a natural flow," Pickering said. "We get timed for routines and our times are very, very close so when we are together for synchro, as long as we maintain a consistent height we should be pretty tight."
Everything in sync
The start is vital. For the Australians, Pickering calls "up" at the top of one bounce and then, as long as she is happy, Sampson knows it is time to go on the next bounce. If disaster strikes and they need to change things radically during the routine, either gymnast will shout "no", indicating a rapid change of tack for the next skill.
So in time are men's Belarusian pair Uladzislau Hancharou and Aleh Rabtsau that it almost seems unreal. The double defending World champions once again proved irresistible, easing their way to the top of qualifying with a score of 96.110, more than one-and-a-half points ahead of the Russian duo Mikhail Melnik and Sergei Azarian in second.
Compatriot Artsiom Zhuk, who finished fourth in qualification with his partner Ivan Litvinovich but will not contest the final with just one pair per nation able to progress, lamented being up against the greatest.
"They are too good, we try train together and we try our best," Zhuk said.
'Special' Brown is top tumbler
In the men's Tumbling qualification the USA's Kaden Brown was overjoyed to beat two of the best of recent times. The 18 year old was the World Age Group Competition champion in 2017 and proved he belongs in the seniors by flipping his way to first in qualification for Sunday's final, finishing well ahead of 2018 World silver medallist Elliott Brown (GBR) and 2018 champion Vadim Afanasev (RUS).
"He is a special talent. When he competes it is mesmerising to watch, everyone is in awe. He takes our breath away every time he lands," teammate Alexander Renkert said of Brown. And he should know, he is competing at his eighth World Championships.
Brown's performance secured the USA a coveted spot at The World Games 2021, with Shanice Davidson, who topped women's Tumbling qualification on Thursday, doing likewise for Great Britain. In total, the top 10 finishing gymnasts in both the men's and women's Tumbling and Double Mini-trampoline qualifiers in Tokyo secured places at the next World Games – with a maximum of one per nation.
For a full list of qualifiers see The World Games 2021 event calendar page on the FIG website.