Asics Graphic Design tights
Buy now 

The Colour is peach melba, in the photos it looks very pink but it is more peach

We loved these leggins, super quality really lovely smooth material, obber comfortable!!!
I wore them in the gym alot and loved the secure pocket at the back for my locker keys etc
Great length i'm 5ft 7 and they fit perfectly
Over all 10/10 well done Asics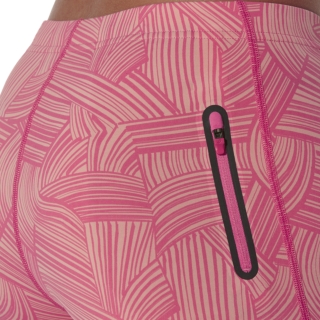 Complete your look with the all-over aurora print on a tight designed to help you go fast and long. Soft, lightweight fabrics are supremely comfortable and keep their shape wash after wash, so it never lets you down.
Get a little extra warmth by throwing on a pair of looser shorts over the top. Your keys can go in the secure back pocket as well.
Be seen at night with reflective taping and ASICS logo

Layer a pair of shorts on top for a little extra warmth

Stand out with an all-over print of a stunning natural light display




Asics Lite-Show Winter Jacket Women 2016
What a great product, I run most evenings in the cold so when I was asked to try out the new Lite Show Jacket from Asics I was so happy. I love everything about it, it keeps the sweat away when I run and keeps me cool but most importantly it has Permanent 360 degree retro-reflective seams that bounce back light directly to its source, assuring you can't be missed when out in the dark. 

It's an item that washes up really well and one that I love and will keep in my gym bag for a long time



Asics Lite-Show Winter Jacket - Teal 

Make sure you're ready for the wind and rain on your wintry runs with this Lite-Show winter jacket by Asics! Highly reflective, this jacket utilises stealth reflectivity to the back and sleeves to make sure no morning is too dark for you to work out! Brushed knit panels to the side and back wick away moisture to keep you warm and comfortable, while the softshell construction is both wind and water repellent. Complete with a media port for your headphones and thumboles to keep your silhouette sleek, this jacket ticks all the right boxes. 

Team with Lite-Show tights and your trusty Asics Gel trainers when you're ready to workout. We're wearing ours on rest days too when we want to keep warm!