Protest Snow season Clothing
We have reviewed Protest over a few seasons now However, they've never really been a challenger in the technical department, but that might be changing
The brand has been producing bright, stylish, seasonaire-suitable snow clothing for several years and seem to be in a strong position in that market.



Snowbird Women's Anorak ski jacket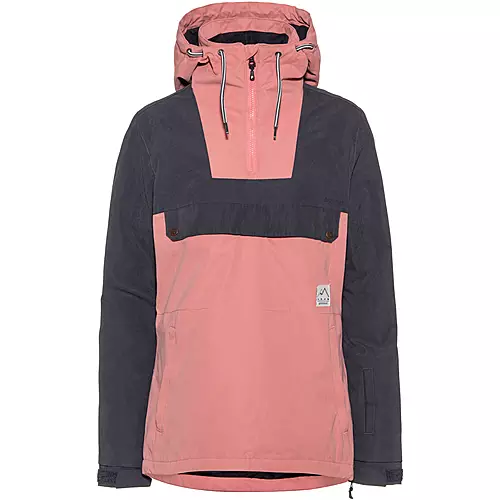 It went down a perfect treat when visiting our family in the South Tirol in Austria
Apart from looking sensational, the quality was excellent. With the latest Geotech technology 10,000m Water proofing, ventilation zips, snow guard, wind repellent the jacket has it all. It never let me down out on the slopes it kept me toasty warm and dry while looking stylish.  The sleeves are a good length allowing for free movement and the long chest pockets are easily accessed wearing gloves.

For value for money, this jacket is a steal! It's properly waterproof, properly breathable, properly warm (when layered correctly) and properly seasonaire-stylish! ...and less than £200! Bargain!


GEOTECH technology
wind and water repellent
lined stand-up collar
underlayed half-zip
Ventilation zips under the arms
various bags
adjustable cuffs
integrated snow guard with anti-slip rubber
extended back area
Water column 10,000 mm





Protest VIRGINIA Ladies
Both of the Protest Hoodies went down a treat, we combined them with our other clothing. I had this under my Snowbird and then in the evening Apres Ski. I was asked several times where I had bought the jumper and comments were made on how nice it was. Both jumpers were a delight to wear throughout the week in the South Tirol. In Innsbruck a lady even asked me where to buy one, I gave her the name and make and told her to go online as the jumper was a bargain for under £60.00. I loved the high neck and the cord string on the Virginia and on the Novato the tech fleece is part of of the Geotech series is ultra snuggy and the pockets are zippered and the fabric at the high neck is double-layered for extra warmth



Introducing the great Virginia sweatshirt by Protest. Part melange, part print and part solid colour, this sweatshirt is a mix of colour blocking and polka dots. The high collar is lined for extra warmth and there is a melange drawstring at the neck. A super cool layer of warmth for this winter, the Virginia by Protest. 50% Cotton, 50% Polyester
Buy here



Protest NOVATO Ladies


Check out the fabulous Novato by Protest. This tech fleece is part of our Geotech series; technical clothing that will help you get there. This sweatshirt is made up of two types of jacquard knitted fabric. This adds texture to the sweatshirt. The pockets are zippered and the fabric at the high neck is double-layered for extra warmth. Just what you need this winter, the Novato by Protest 100% Polyester
Buy here
Natasha Softshell salopette
Just loved wearing the Natasha Salopette
They were really easy to get on and off not like many I have had in the past.
Some salopettes are hard to move in, you have enough to worry about when dodging the snow, wind and rain and we had a bit of that.  The deep side pocket was a god send when walking out without my jacket on, I carried money phone which meant I could have my hands free. At around £129.99 they are a great buy that will last you many seasons on the slopes.

Solid With All Over Printed Elastic Straps With Metal Slider To Adjust The Straps
- Plastic Blockteeth Zipper At Front
- Side Pocket With Nylon Zipper And Piping Finish
- Topstitched Darts At Pre-Shaped Knee
- Shellfabric Loop For Fastening Waistgaiter At Jacket
- Elastic Insert At Back
- Nylon Zipper At Bottom Leg
- Nylon Innercuff With Coated Anti-Slip At Bottom Leg