The Origin Australian Diamonds v Suncorp Super Netball All-Stars bushfire relief charity match is set to entertain fans even more than first anticipated, with the inclusion of the Suncorp Super Shot and rolling substitutions.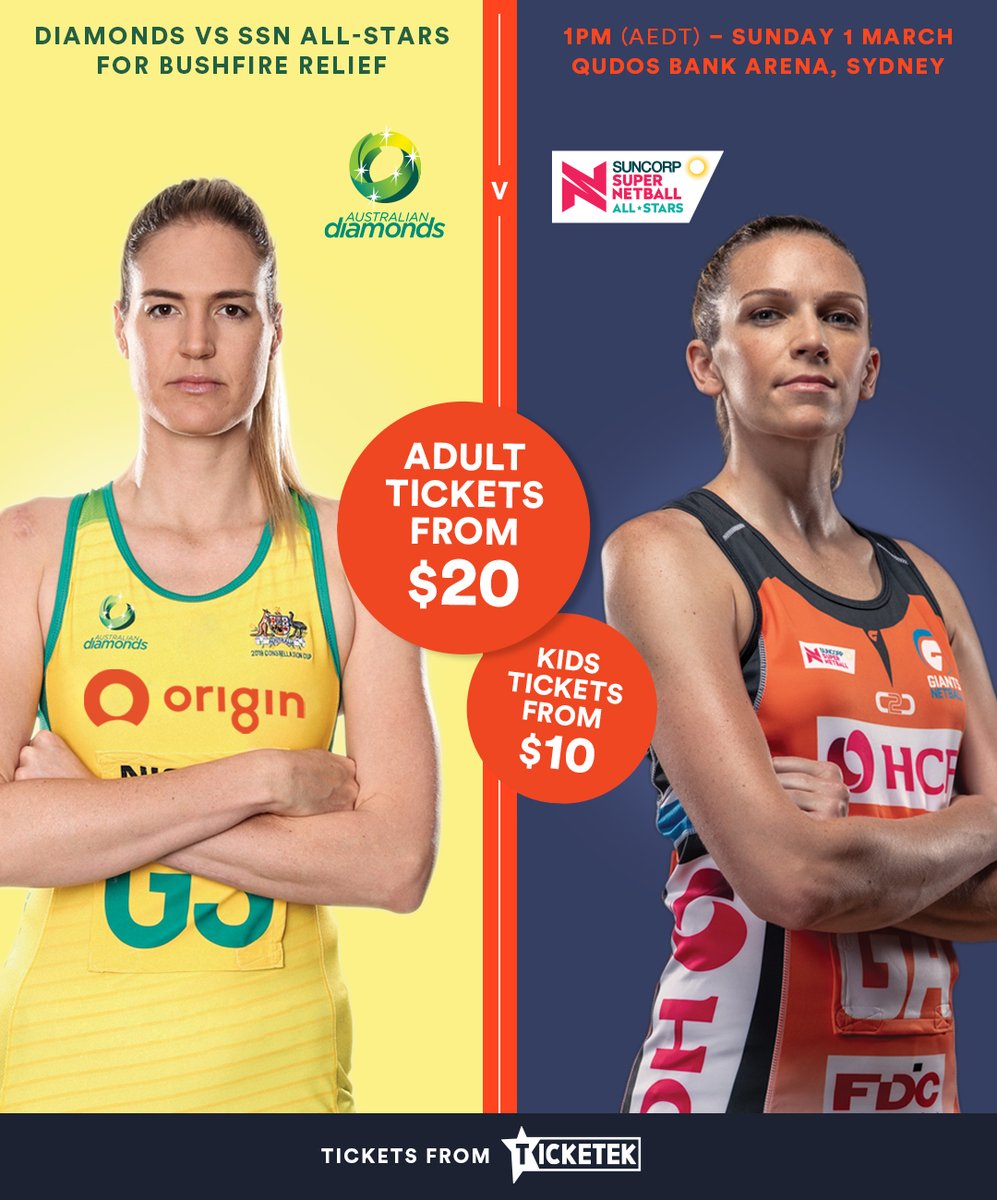 The Suncorp Super Shot has been created for the showcase match as an extra fundraiser and will be in play in the final five minutes of each quarter. It gives the goal attacks and goal shooters the opportunity to score two points and raise money by shooting a goal from the designated zone within the goal circle.

Fans can also be assured that all 28 superstar players from across both teams will be taking to the court throughout the match, with the introduction of rolling substitutions throughout all four quarters*.

These rule modifications will allow the world's leading netballers to face off for 10 minutes of traditional netball each quarter before turning their attention to scoring Suncorp Super Shots to raise money, and their score tally, in the final five minutes of each quarter.

Origin Diamonds v SSN All-Stars commentator and netball legend Liz Ellis is excited to be calling the match for Nine alongside Cath Cox and Sue Gaudion at Qudos Bank Arena in Sydney on Sunday 1 March.

"This match is going to be huge. How often do netball fans get to see all the best players in the world take to the court in one match? It's almost a once in a lifetime opportunity," she said.

"The inclusion of the Suncorp Super Shot will not only raise extra funds to support those affected by bushfires, but it will add another element of entertainment to the game and truly showcase the incredible talent on the court."

In other rule specifications for the match, once the final siren sounds for the match; if the game is drawn, there will be no added extra time and the result will remain a draw.

There will also be a total of four 90-second time outs for the match, with both teams allowed two each. All four-time outs must be taken during the match with teams able to take them at any point in the match.

Tickets for Origin Diamonds vs SSN All-Stars start from $20 and are on sale via www.ticketek.com.au.

The match will be broadcast live in all Australian states and territories on Nine at 1.00pm AEDT and streamed live on the Netball Live Official App.

All funds raised through Netball Australia's initiatives will be donated to a Natural Disaster Relief Fund (https://confident-girls-foundation-bushfire-appeal.raisely.com/) which has been established through the Confident Girls Foundation with the purpose of supporting netball-specific bushfire relief and recovery projects.

*Rolling substitutions will be conducted under the same stipulations that have been announced for the 2020 Suncorp Super Netball season.