Olympic champion Simone Biles (USA) added a fifth world All-around title to her growing legacy on Thursday at the 2019 Artistic Gymnastics World Championships in Stuttgart (GER), where she was joined on the podium by runner-up Tang Xijing (CHN) and bronze medallist Angelina Melnikova (RUS).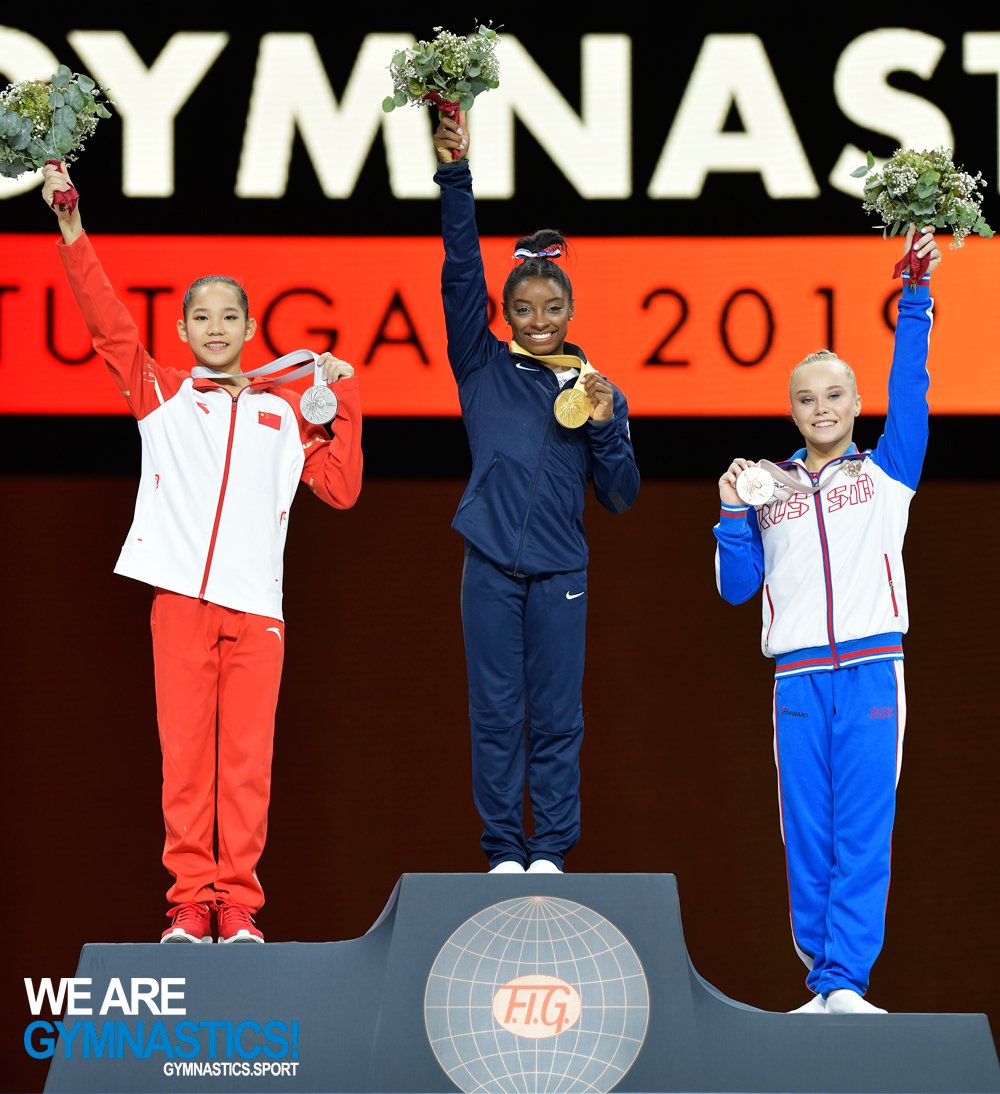 Biles unstoppable in Stuttgart
Biles, who last year became the first female gymnast to win the world All-around title four times, led from start to finish on Thursday at Hanns-Martin-Schleyer Hall. The 22-year-old Texan tallied 58.999, more than 2 points ahead of the silver medallist, with the top scores on Vault (15.233), Balance Beam (14.633), and Floor Exercise (14.400), and the third-best score on Uneven Bars (14.733), where she dismounted with a neatly done double-twisting double back.
Needing a score in the low 12s on Floor to clinch her fifth title, Biles bounced out of bounds several times but soared on her tumbling, including her new triple-twisting double tuck mount.
Biles found it difficult to compare the five All-around titles that she has won since 2013.
"I feel like every one just feels so surreal and every time I come back and I do it, it doesn't feel real in a way," she said. "I feel like nothing beats your first, just because you'll always cherish and remember that one forever, but it's definitely a great experience and I'm excited about it and will go celebrate just like it was the first time I won."
Biles decided to end her final routine with a "mic drop" movement for emphasis, which was suggested by a fan on Twitter.
"[Teammate Mykayla Skinner] showed it to me the other day, last night actually, and she was like 'you should do it!'" Biles said after the competition. "And I was like 'should I? If it's a good routine?' and it wasn't my best routine, but we just thought it would be fun."
With 22 world medals to her name, including a record 15 gold, Biles is within reach in Stuttgart of breaking the all-time record of 23 won by Vitaly Scherbo (URS/BLR) from 1991-96. Biles, who qualified to all the women's apparatus finals, has four more opportunities to take medals in Stuttgart.
The world All-around title is the seventh consecutive for the U.S. women, who have won every year since 2011.
Tang takes advantage of opportunity
Tang, 16, was a substitute for teammate Liu Tingting, who on Wednesday withdrew from the All-around final. Competing in her first world championships, Tang hit four events cleanly, with her top scores on Uneven Bars (14.566) and Balance Beam (14.600). On Beam, where she fell twice in qualification, Tang tallied the second-best score behind Biles, impressing with a layout stepout mount and round-off two-foot layout.
Needing a hit routine to stay ahead of Melnikova on Floor Exercise, Tan delivered once again, tumbling a tricky triple twist-punch front combination for a 13.600.
"Because I didn't know that I was going to [compete], I just focused on doing what I'd done in training and didn't think too much about the results," Tang said. "I didn't even watch the results, so it was really surprising. I only realised I'd won a medal after the Floor, because I wasn't watching the scores before that. I feel really confident after winning the silver medal here."
It is the first world medal for the Chinese women in the All-around since Yao Jinnan won bronze in 2011, and matches the best result, silver, won by Jiang Yuyuan in 2010.
Melnikova wins first individual world medal
In her third world championships, Russian champion Melnikova, 19, finally captured her first individual medal, taking bronze behind Biles and Tang. After a strong start on Vault, Melnikova's hand grip came loose on Uneven Bars, where she lost valuable points after a missed combination and other small errors, including grazing the mat with her feet, to drop her score to 13.900.
But the 2016 Olympian rebounded to score 14.000 on Balance Beam, where she performed with newfound confidence. After hitting two big tumbling passes on Floor Exercise (full-twisting double layout and double layout), Melnikova scored 14.066, enough to win bronze, 0.5 behind Tang.
"This is very cool, I felt a very strong struggle among us," Melnikova said afterward. "We had a strong competition—if you noticed, there was a small margin between fourth and fifth places. It was difficult, I knew about what I need to do to be on the podium, and I'm glad I did it."
Melnikova was happy for her improvement on Balance Beam, earning the highest Execution score on the event so far at these world championships (8.600), and said she was confident going into her final routine on Floor Exercise.
"I'm glad that my routines on Beam are getting better and better every time, she said. "Before Floor Exercise, I didn't fall apart. I didn't expect that something could go wrong. I knew the approximate score I needed."
It is the first world medal for the Russian women in the All-around since Elena Eremina won bronze in 2017.
Black injured en route to fourth
Two-time Olympian Ellie Black (CAN), the silver medallist in 2017, finished fourth, less than 0.2 behind Melnikova, but suffered a high ankle sprain after landing a layout Rudi on Vault in the final rotation.
Nina Derwael (BEL), the world champion on Uneven Bars, had the best mark on that apparatus (15.200) and was in the hunt for a medal through three events. She fell to fifth after her vault, a full-twisting Yurchenko, scored just 13.600.
Elisabeth Seitz (GER) delighted the home crowd with her sixth place, ahead of Flavia Saraiva (BRA). Sunisa Lee, a member of the gold medal-winning U.S. team in Stuttgart, fell off Uneven Bars on her Pak salto to place seventh.
Other medal contenders also succumbed to mistakes in the final. Giorga Villa (ITA), 16th,  fell off on her wolf turn on Balance Beam and Melanie de Jesus dos Santos (FRA), 20th, suffered two falls on Uneven Bars.