Anyone remotely familiar with NCAA Division I Women's Volleyball knows that, by any meaningful criteria, the Pacific 10 (PAC-10) is the dominant conference. Still, most do not realize the depth and duration of the PAC-10's preeminence in the sport. The first measurement of success and the ultimate goal of any team sport is championships.

Since the first NCAA officially sponsored championship in 1981, 13 titles have been won by PAC-10 teams. Stanford leads all Division 1 teams with six titles – which alone are greater than any other conference. UCLA and USC have three each and Washington has one.
Prior to 1981 there was the Division of Girls' and Women's Sports (1969 - 1972) and the Association for Intercollegiate Athletics for Women (1973 – 1982). During this period, cross-town-PAC-10 rivals UCLA and USC claimed six of the thirteen championships with UCLA also finishing three-times as a runner-up.

Further, the PAC-10 conference has also dominated in NCAA Final Four appearances, taking 39 out of the 106 available positions. There were three years, 1993, 1998 and 2009, when there were no PAC-10 teams in the Final Four. Incredibly, there were two years, 2004 and 2007, when three of the four teams were from the PAC-10 conference.

Further there is a competitiveness in the PAC-10 that does not permit let downs, over confidence or sloppy play by a more talented team. It is extremely difficult to remain undefeated in any conference. In the PAC-10, only USC managed that feat with a 35-0 record in winning the 2003 NCAA Championship. USC won the first NCAA Championship with a 27-10 record. Stanford was the last PAC-10 championship team, winning top honors in 2004 with a 30-6 record. This is not to denigrate some phenomenal performances by other teams in other conferences. By winning in 2009, Penn State became the first team to win three consecutive NCAA Championships. The Nittany Lions also had an unprecedented two consecutive undefeated seasons with perfect records in 2008 and 2009. In 2008, Penn State was not only undefeated but won every regular season match by 3-0 shutout. Great performances by Penn State but no other Big Ten Conference team has ever won a NCAA women's volleyball title.
What has all this volleyball history have to do with 2010? Simply speaking, it's business as usual. With the NCAA tournament due to start on December 3, 2010, the PAC-10, Big-Ten and South Eastern conference teams are prominent in the win column and in the rankings. Most of the teams that have reached the Final Four in the past – Hawaii, Stanford, California, USC, Nebraska, Penn State, UCLA, etc. - are on track to compete for the championship.
UCLA teammates Dicey McGraw (7) and Katie Camp are out of position to handle the ball. On the opposite side of the net, are Arizona opponents, Paige Weber (left) and Cursty Jackson (right).
First, the teams will have to survive conference competition – which equates to all of the matches prior to the NCAA tournament. PAC-10 competition is a take-no-prisoners war. To paraphrase Friedrich Nietzsche in Also Sprach Zarathustra, "What fails to defeat them will only make them better." Case in point, in 2009, the Washington Huskies brought a 15-0 seasonal record into Maples Pavilion to face the 11-4 Stanford Cardinal. Not only were the Huskies undefeated, they had not even lost a set. The result - Washington lost three sets to Stanford.. The Huskies faced a similar situation in 2010. With 12 victories, all by 3-0 shutout, Washington faced an undefeated Oregon squad in Eugene, Oregon. Washington lost 3-1. In Oregon's next match, their perfect record was spoiled by California, followed by a loss to Stanford. Washington also suffered losses on the road to PAC-10 rivals USC, UCLA and California. This is PAC-10 Women's volleyball.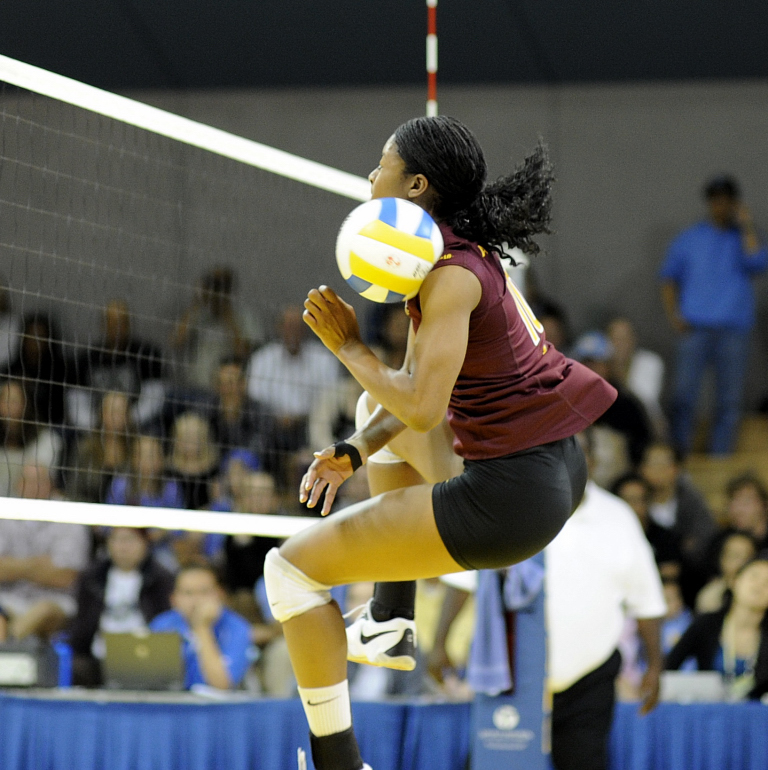 During a match with UCLA, Marcelina Glab of Arizona State is hit by her own blocked return.